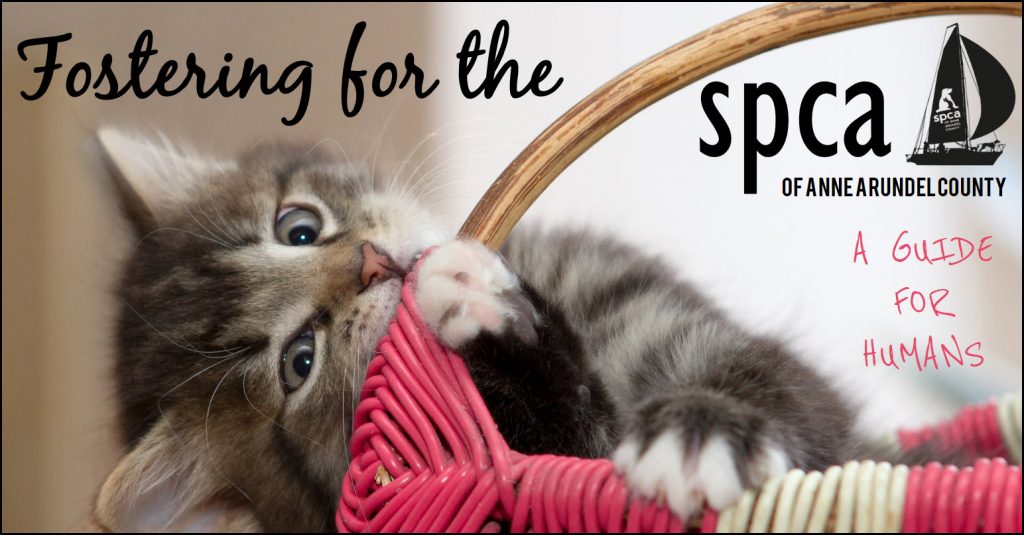 Thank you for your interest in fostering! Why not try out our new interactive guide to fostering, to see what is required? (Click here or on image.) 
Fostering Prerequisites
In order to foster, you must meet the following prerequisites:
Over the age of 18.
Transportation and availability for appointments / emergencies
All your animals must be altered and up-to-date on vaccinations
Must be able to keep your animals separate from the foster animals.
Have reviewed our interactive guide to fostering.
How To Apply
If you have reviewed the interactive guide and the above requirements, are interested in helping save lives, please complete a foster application form:
NEW! Online application form (a PDF will be sent to you) and we automatically receive a copy.
Traditional: Complete using either in PDF

 or 

Word, 

 and send it to the Foster Coordinator via email to  

foster@aacspca.org

, fax to 410-268-1139 (ATTN: Foster Department), regular mail 1815 Bay Ridge Ave, Annapolis, MD 21403 – or drop it by the shelter.
If you would like more information on our Foster program please contact the Foster Coordinator at  foster@aacspca.org 
Foster Program Poster
Foster Program Poster – Medical Division
Foster Enrichment Program
SPCA of Anne Arundel County's Foster Enrichment Program 
The SPCA of Anne Arundel County's (AACSPCA) Foster Enrichment Program places some of the more difficult-to-adopt dogs in temporary foster homes where the dogs can receive extra enrichment training. Many of these dogs are stressed in the shelter environment and improve quickly once in a home. This program not only helps to save a dog's life, but it is also a great way for YOU to learn about dog behavior and gain invaluable training experience!
To be considered for the advanced fostering program, you must be able to fulfil the following requirements:
Have an approved SPCA of Anne Arundel County Foster application.
Complete a 1-1/2 hour classroom presentation on dog behavior, training, and safety techniques.
Meet with the dog at the AACSPCA at least once and learn the training that the dog already knows.
Allow one of the AACSPCA's dog handlers to do a home visit with or without the dog to make sure there is a good set-up for the particular dog.
Participate in a weekly training session at the AACSPCA or in-home (depending on the needs of the dog).
Send weekly progress reports to Foster Coordinator and Dog Handler.
Commit to a time period of 2 weeks to 6 months depending on the dog.
If yes, please contact us! If not, please ask about fostering one of our other in need animals that may be a better match for your lifestyle.